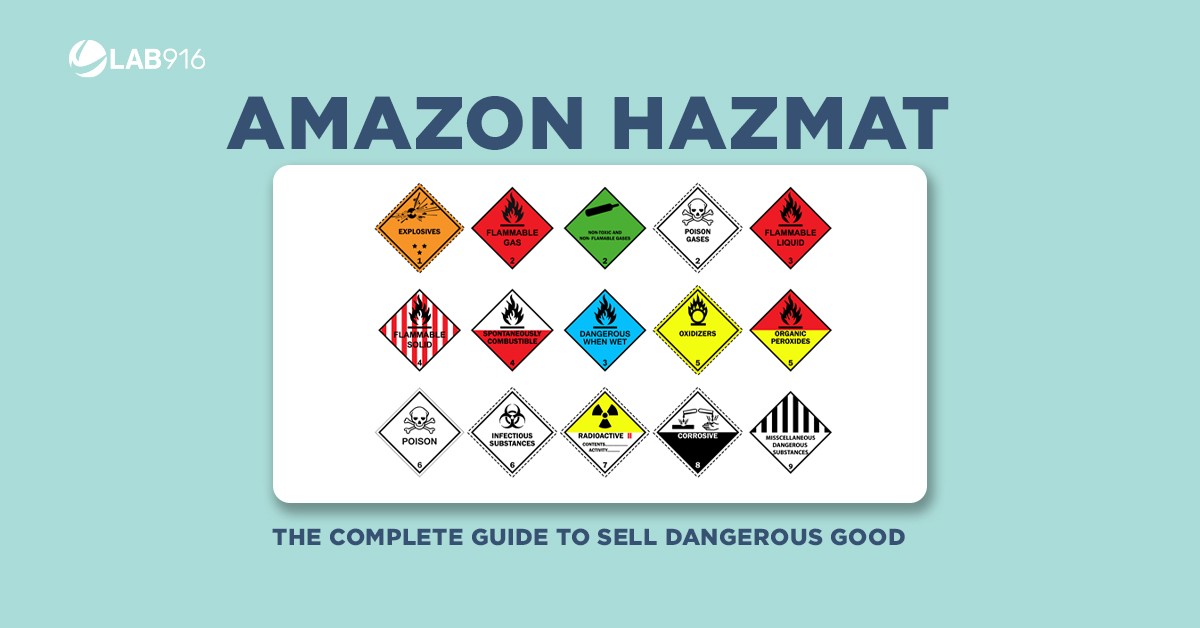 Have you thought about selling products on Amazon like gadgets, hair care items, or beauty products? Hold on! There's an alert for you that your product may categorize as hazardous products. And it's known as Amazon Hazmat. 
If you face this warning, you'll need to provide some additional papers or documentation before you can begin selling it.
Hence, we'll explain how you can determine whether or not your product falls under the category of hazardous materials (hazmat) and the documentation needed to sell dangerous products on Amazon.
What is the Origin of Amazon's Hamzat Review?
When it comes to FBA products, Amazon hasn't always conducted Hazmat checks. In 2014, after paying a $350,000 punishment for hurting UPS personnel with leaking goods, the platform implemented the technique for the first time.
Since that day, Amazon has had the authority to test all items it received in its warehouses for the presence of potentially hazardous substances. This is done to protect themselves and their personnel and to ensure that nothing unexpected happens during shipment.
How Does Hazmat Impact Your Sales
If Amazon classifies your goods as Dangerous Goods or Amazon Hazards, your listing's conversion rate can suffer severely. Typically, you'll have to stop selling your goods until the problem is resolved. It'll also distract you from other chores (such as marketing or product improvement) that you may be performing to advance your firm.
What Counts As Hazmat Products on Amazon?
However, most of the products that Amazon considers to be dangerous goods are not the kinds of things that people often think of when they hear the term "dangerous."
When not used, stored, or transported properly, many different types of cleaning products, cameras, and other electronic devices that require batteries, anything that contains a flammable liquid, and many other types of products can be dangerous. 
The following items are some examples of popular hazardous products:
Cameras

Chargers

Mobile phones

Speakers

Hairspray

Hair dyes

Essential oils

Insect repellents

Nail polish

Shoe polish

Camp stoves

Battery-operated toys

Bluetooth headsets

Gaming controllers

Spray deodorants

Tape, adhesives, and glue

Markers and highlighters

Pet flea and tick control products

Kids' building kits and chemistry sets

Some automotive care products, such as airbags and auto oils

Foods in pressurized containers (like whipped cream)

Aquarium glass cleaners and water treatment products
This list doesn't cover everything, but its an idea of some things that Amazon considers hazardous. Amazon sellers who sell many different things need to understand how to spot hazmat products and obey the platform's rules for safely dealing with them.
How to Identify If Your Product is Hamzat
The identification of hazardous products is quite simple in most circumstances. By looking up the item's Amazon Standard Identification Number (ASIN), you can determine whether or not Amazon has categorized a product as hazardous materials (hazmat) (ASIN).
Furthermore, the product maker is obligated to supply a Safety Data Sheet (SDS), which should include information regarding the product's risk level. If you search for the effect on the manufacturer's website, you will most likely come across the SDS.
What Happens When Products are Marked as Hazmat?
Don't freak out if your goods are labeled as hazardous materials. If you have got any message on Amazon Hazmat, this indicates that Amazon would like to gather more information regarding the product to ensure that it is safe. They are simply gathering information about your product.
For instance, in the case of batteries and other restricted products containing batteries, you will indeed receive a request to provide descriptive data such as;
The number of batteries 

Composition of the batteries

Majority of the technical particulars can be obtained from the manufacturer.
For products that are considered dangerous goods, you will be asked to submit further information to identify the product's features, such as whether or not it is flammable or corrosive. Packaging or in a document called a Safety Data Sheet (SDS).
If Amazon gathers sufficient information about your goods and determines that everything is in order, you may continue selling that product. If people discover that your product contains harmful materials, they may choose not to purchase it.
Amazon Hamzat Review Process
Amazon may choose to conduct a hazmat review on your products. If they do, they will request that you provide extra paperwork. You can typically choose between the following two courses of action in such a situation:
Include a Safety Datasheet (SDS) in your submission: If your item falls within the category of hazardous materials

Ensure that an SDS Exemption Sheet is Provided: If your item is not considered to be hazardous materials
FBA Dangerous Goods Program
Amazon offers a Dangerous Goods Program for FBA. It is intended for brands or businesses that sell FBA-eligible hazardous materials products. The United States program currently has a waitlist for prospective sellers. To enter the waitlist, you should complete the steps below:
Log in to the Seller Central.

Go to Manage Classification of Dangerous Goods.

Select the option for the FBA Dangerous Goods program.

To enroll on the FBA Dangerous Goods program, click Apply.

Some sellers can be automatically added to the waitlist. This will occur if products in storage are categorized as dangerous goods.
When retailers are eligible to participate in the program, the marketplace will inform them. After enrollment, Amazon will ship your products to a warehouse equipped to handle hazardous materials.
FBA Dangerous Good sellers can ship excess inventory to the warehouse. They must only adhere to the following guidelines:
Ship FBA-eligible merchandise.

All items must be in brand-new condition.

According to Title 49 of the Electronic Code of Federal Regulations, pack limited quantities.
FBA policies prohibit the storage and transportation of hazardous goods. However, you can still sell these items on Amazon if you oversee fulfillment and shipping.
FBA Storage of Hazmat Products
Products classified as hazardous materials are kept in specialized distribution centers. These storage facilities have areas specifically intended to manage and store hazardous materials.
There are two types of hazardous materials under the FBA's purview: flammable and aerosol. To ensure the safety of its employees, Amazon will only keep a limited supply of products in this category.
On Seller Central, sellers can verify their own hazmat product storage limitations. Check it out under the area that deals with the storage monitor. You'll be able to gain access to it by using the Shipping Queue or the Inventory Performance.
It should be no surprise that Amazon charges a monthly fee for FBA storage of hazardous materials. To determine how much these fees will be, you'll need to think about the kind of hazardous material being transported and the amount of space it will require in the warehouses.
FBA Onsite Dangerous Goods
FBA Onsite combines FBA and Seller-Fulfilled Prime (SFP). Amazon optimizes a seller's warehouse to enhance fulfillment and administration.
Brands may manage their storage using Amazon's warehouse software. In addition, Amazon chooses a registered carrier to send your items and international orders. 
It's an excellent program for monitoring the quality of the product, packaging, and transportation. However, FBA Onsite has one disadvantage. Currently, the program isn't accepting requests to handle dangerous items.
Therefore, if an item is designated as a hazardous substance, it won't be available for purchase on Amazon. In addition, Amazon maintains a waiting list for FBA Onsite vendors who wish to provide dangerous products.
Here are the steps:
Contact Seller Support onsite.

List at least five hazardous ASINs you'd like to sell.

Await the decision.
The market will evaluate your competence in managing hazardous materials. This includes training and product compliance with Amazon's policy on dangerous goods.
Seller Compliance and Responsibility
Any hazardous materials supplied to Amazon must adhere to all applicable legislation and requirements. In the United States, regulations governing dangerous items include the following: 
Every harmful material needs to comply with the relevant legislation. You are also required to give complete product data and an up-to-date safety data sheet (SDS) or exemption sheet.
How to Submit an SDS or Exemption Sheet
If you believe that your product does not pose a risk to consumers' health and safety, you must submit an SDS exemption document. Amazon provides the documentation, which requires you to give the following information:
ASIN

Product name

Full ingredients list

Warning labels (if any)
The challenge for many importers and retailers is that neither they nor their suppliers have a list of ingredients. 
Consequently, the seller is put in a position where they can't provide either a safety data sheet or an SDS exemption document.
You still can send in your goods for material analysis, albeit doing so will incur a fee of at least a few hundred dollars and take at least two weeks to finish.
How Can you Resolve Amazon Hazmat Reviews Quickly?
Fortunately, Amazon's decision to classify your products as hazardous doesn't have to signify the end of the world. The following are some of the things that you may do in advance to effectively manage Hazmat reviews if they occur:
1. Make a new SKU using FBM:
To continue selling your product even if it has been designated as a Hazmat item, you can create an alternative SKU using the Fulfillment by Merchant (FBM) service. 
If you choose to handle the fulfillment of your orders yourself rather than having Amazon handle it, you will have full control over your managing inventory and shipment.
If you choose to fulfill your own orders, Amazon won't charge you any service fees because you won't be using Amazon's fulfillment services. 
However, you will be required to take on a greater number of tasks in comparison to what you would be doing with Amazon FBA.
2. Ask Seller Central Support for more storage space:
The amount of hazardous material stored by FBA sellers is capped. If a significant number or all of your Amazon products are classified as hazardous materials, this may impact the Hazmat fulfilment choices.
However, they are unaware that through Amazon's Seller Central Support, it's possible to request additional information. Bear in mind that only the more prominent merchants will have their requests accepted most of the time.
3. Hire an Inventory Management Specialist:
Utilizing the appropriate paperwork is the key to resolving any issues that have been raised with Amazon Hazmat. So, it'll be great for you to have an experienced individual in charge of inventory management.
And he should be able to keep up with the constant changes brought about by FBA and Hazmat reviews. It can save you a lot of time and even more stress to hire a team of professionals to handle the twists and turns of hazardous products. 
These include keeping up with dynamic changes from Hazmat reviews, managing your brand's inventory responsibilities, and compliance.
You'll also have the peace of mind that comes with knowing that your inventory and hazardous issues are in capable hands, which will let you focus on other aspects of making your Amazon business better.
FAQs
What is the maximum amount of time I have to submit the hazardous documentation?
The documentation must be sent to Amazon within four business days at the latest.
What consequences will I face if I do not deliver the SDS or the SDS exemption sheet?
The filing of hazardous documentation is necessary and required. Consequently, the distribution of your product will continue to be halted until you either provide the SDS or the SDS/MSDS exemption document.
How can I obtain an ingredient list?
Ideally, you should be able to receive a bill of materials from your supplier. However, if you're purchasing from a trading company, you may be out of luck. Because they frequently lack this information. 
Furthermore, some producers may deny providing the list that includes the cost of materials. In that case, the other option is to send your product to a lab for testing, which can be expensive and take a lot of time.
Final Words
If you are planning on selling products that could get flagged as a hazardous material by Amazon, you'll need to have a proactive approach to getting your products on the marketplace. 
LAB916 has extensive expertise uploading SDS or MSDS exemption sheets using the Amazon upload portal as a digital marketplace management firm. We apply the proper format and follow up with Amazon to ensure your product listing is accepted.
Our track record in Amazon Hazmat dangerous products program benefits our clients. We offer ample inventory storage and our qualified Brand Manager can boost your Amazon listings. If you have any questions or difficulties with concerning Amazon's hazardous policy, our brand manager can help guide you.